CCTV
Cables
Details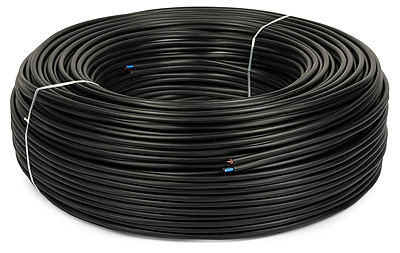 Box dimensions: 38 cm x 38 cm x 11 cm; weight 9 kg" />
View of 100 m packaging
Box dimensions: 38 cm x 38 cm x 11 cm; weight 9 kg
CAMSET 100 PE M6103 is a top quality outdoor cable designed for powering analog CCTV cameras and transmitting video signal. Its 1.0 mm2 intersection of power wires allows to double the distance of power supplying, compared with typical CCTV cables. It is produced by renown European cable plant.
The latest high-performance analog CCTV cameras require appropriate quality of transmission medium. It is unacceptable to use them with low-quality, quickly degrading cables.
CAMSET
cables have excellent parameters and are produced under strict technological discipline. They guarantee perfect and stable video transmission.
The distinctive features of CCTV CAMSET 100 PE M6103:
highest-quality materials, strict technological discipline confirmed by a 6-year quality guarantee,
92% copper braid coverage,
two copper power wires up to 230VAC, of 1.0 mm2 intersection (each core),
outer sheath made of uniform polyethylene (volumetric coloring) resistant to UV radiation and humidity,
wide temperature range of installation and operation,
preliminary quality control of materials and thorough tests of the final product,
typical size of RG-59 cable: copper core diameter - 0.59 mm, braid diameter - 3.7 mm, outer diameter - 6.15 mm,
meter markers,
two packagings:

100m M6103_100 (cardboard box),
200m M6103_200 (cardboard box).
CAMSET solo M6000 - coaxial cable,
CAMSET 50 M6050 - coaxial cable with two 0.5 mm2 power wires,
CAMSET 100 M6100 - coaxial cable with two 1.0 mm2 power wires,
CAMSET 100 PE M6103 - outdoor coaxial cable with two 1.0 mm2 power wires.
Every
CAMSET
cable has the same coaxial part.
Composite CAMSET 100 PE M6103 cable consists of coaxial part and two insulated copper wires of 1.0 mm2 intersection (each wire) for powering cameras. The thickness of their double insulation allows to power the camera even from 230VAC line. So the cable can operate at typical voltages of 12, 24, 115, and 230 V.
The conductor made of stranded copper wire of 0.5 mm
2
intersection at 20
o
C has resistance of 39 ohm/km, another one of 1.0 mm
2
intersection - 19.5 ohm/km. A typical CCTV camera consumes 150 to 250 mA. Taking the upper value, according to the Ohm's Law the maximum distance of supplying power is about 60 m for CAMSET 50 2x0.5 mm
2
, and about 120 m for CAMSET 100 2x1.0 mm
2
.
More on powering CCTV cameras with composite cables (coaxial cables with additional power wires) you can read in the article
Internet CCTV GUIDE - power supplies and accessories
.
The CAMSET 100 M6103 cable should be used for longer lines where typical CCTV cables are not suitable due to excessive voltage drop (over 10% at the cameras, the problem is especially acute in the case of using thermostats). Thanks to PE sheath the cable is suitable for outdoor installations.
CAMSET solo M6000, CAMSET 50 M6050, CAMSET 100 M6100, CAMSET 100 PE 6103 - have been designed and manufactured according to European norms: EN 50395:2005, EN 50396:2005, EN 60228:2005, EN 60811-1-2, EN 50117-2-4:2005/A1:2008, IEC 1196-1, EN 501117.
CAMSET cables come with a 6-year warranty.
The warranty covers all manufacturing flaws that could be an effect of using defected materials, improper technical solutions or production process.
The manufacturer guarantees stability of the parameters given in the "Specifications" at least for six years, on the condition that the cable is packed, transported, installed, and used according to adequate European norms, within the listed environmental conditions (see the Specifications below).
CAMSET solo M6000, CAMSET 50 M6050, CAMSET 100 M6100, CAMSET 100 PE M6103 have braid made with 80 copper wires of 0.20 mm diameter, which ensures 92% braid coverage. Such thick braid, compliant with the highest standards, ensures effective electromagnetic shielding. It eliminates the influence of external electromagnetic fields and does not allow to radiate any significant part of the energy of the transmitted signal as electromagnetic field. In the market there are many types of cables with various parameters. As a decent standard there are recognized coaxial cables with braided screen composed of 64 wires of 0.15 mm diameter. The cables offered by DIPOL have even more wires, made of copper (instead of popular aluminum braid that has not stable parameters and is prone to corrosion).
CAMSET solo M6000, CAMSET 50 M6050, CAMSET 100 M6100, CAMSET 100 PE cables are very carefully tested during manufacturing process and then pass final quality control. The measured parameters are determined by the norms mentioned above.

The basic tests include:
strength testing of the sheath made of modified PVC (tensile test before and after aging process in thermal chamber: 100 oC / 168 hours, -30oC / 20 hours),
resistance to squeezing at 80 oC,
insulation resistance at 4.2 kV AC and 6.3 kV DC,
resistance to winding stresses in low temperature (-55 oC),
measurement of the resistance between conductors (min. 500 Mohm)
resistance to test voltage of 2 kV AC, for 1 minute (after immersion in water),
measurement of wave impedance,
measurement of specific capacitance,
resistance of power wire insulation to at least 600 V.
The first of the tests allows to confirm high mechanical parameters of the sheath, guarantying resistance to breaking and long life of the cables.
The CAMSET solo M6000, CAMSET 50 M6050, CAMSET 100 M6100 cables have been designed for indoor applications (lack of resistance to UV radiation). They can be used in a wide temperature range: -40...+70 oC (and installed between 0 and +50 oC). The sheath is made of white PVC. For outdoor applications there should be used cables in black PE sheath, like CAMSET 100 PE.
CAMSET solo M6000 and the coaxial parts of CAMSET 50 M6050, CAMSET 100 M6100, CAMSET 100 PE M6103 have the core made of copper wire of 0.59 mm diameter. The cables are compatible with the connectors suitable for RG-59.
Some manufacturers offer cheaper cables with steel wire covered with copper. This construction considerably increases attenuation of the signals transmitted in CCTV systems. It also makes such cables much more stiff, which is very inconvenient during installation process.
CAMSET solo M6000, CAMSET 50 M6050, CAMSET 100 M6100, CAMSET 100 PE M61003 have length marks printed at intervals of one meter, which help to measure out specified lengths. The marks are made by officially approved device.
Name
CAMSET 100 PE

Code
M6103
Impedance of coaxial cable [Ω]

75

+/- 3

Capacitance of coaxial cable [pF]

67

+/- 2

Wave reduction factor [%]
66
Operating temperature [oC]
-40...+70
Operating relative humidity [%]
0...100
Installation temperature [oC]
-20...+50

Minimum bending radius

[radius to diameter ratio]

>10
Weight [kg/km]
90
Coaxial core
Material

copper
Structure
solid wire

Diameter [mm]

0.59

+/- 0.01

Resistance [Ω/km]
59.2
Coaxial dielectric
Material

PE
Outer diameter [mm]

3.7

+/- 0.1

Braid
Percentage of braid coverage [%]
92
Number of wires [pc]
80
Wire diameter [mm]
0,20
Resistance [Ω/km]
7.6
Coaxial sheath
Material

black PVC
Outer diameter [mm]
6.15
Thickness [mm]
0.80
Power cables
Number of wires [pc]
2
Intersection [mm2]
1.0
Structure
stranded copper wire
Maximum voltage [VAC]
230
Resistance [Ω/km]
19.5
Resistance of insulation at 70 oC [kΩ/km]
13.0
Outer diameter [mm]
6

| | |
| --- | --- |
| Frequency [MHz] | Attenuation [dB/100m] |
| 1 | 1.0 |
| 50 | 7.7 |
| 100 | 11.1 |
| 200 | 16.2 |
| 300 | 20.4 |
| 500 | 27.2 |
| 800 | 35.5 |
| 1000 | 40.4 |
| 1500 | 50.1 |
| 2000 | 56.6 |
Installing Platinum BNC connector and S-55 quick adapter on CAMSET CCTV cable