GSM, 3G, LTE Antennas
LTE
Details

TRANS-DATA LTE KYZ 7.5/8/10 A741031 is an outdoor, directional log periodic antenna for use with LTE (4G), 3G, DCS, GSM modems and cellular phones, as well as with GSM ( A6765, A6775, A6785) and 3G ( A67105) repeaters . The antenna has 7.5 to 10 dBi gain (depending on the band).
Distinguishing features:
Outdoor use, directional characteristic (log periodic array);
Broadband device: 698-800 MHz, 800-960 MHz, 1700-2700 MHz;
Multi-use: GSM, DCS, UMTS, WLAN, LTE applications;
Gain:

7.5 dBi (698-800 MHz),
8.0 dBi ( 800-960 MHz),
10 dBi (1700-2700 MHz);

VSWR <1.5;
55 cm lead with N connector;
Housing made of ABS plastic, UV resistant and weatherproof;
Mounting with U-bolt;
Tilt range: 0-90o;
Mounting possible to vertical, horizontal, or angled (45o) tube.
Installation:
NOTICE: Drainage holes must be at the bottom!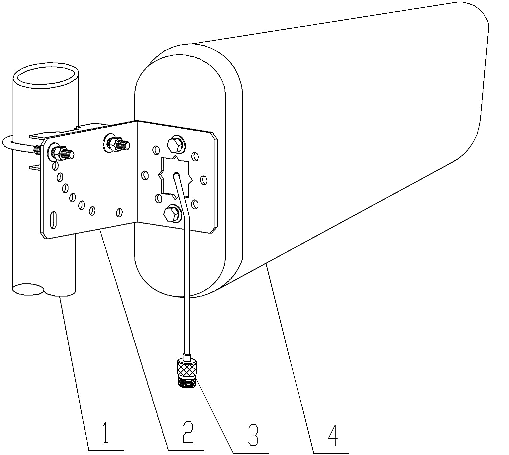 1. Mast 2. Mount 3. Connector - N-f
Name
TRANS-DATA LTE KYZ 7.5/8/10
Code
A741031
Band [MHz]
698-800
800-960
1700-2700
Gain [dBi]
7.5
8.5
10
Vertical beamwidth [°]
65
60
50
Horizontal beamwidth [°]
85
85
60
Front/back ratio [dB]
>15
>20
>20
VSWR
<1.5
Impedance [Ω]
50
Polarization

Vertical
Max input power [W]
100
Connector
N-f
Cable length [cm]
55
Dimensions [mm]
293x210x65
Weight [kg]
0.92
TRANS-DATA
is a brand of high performance antennas for wireless reception and transmission of digital data. Thanks to high quality materials and superior workmanship, the antennas are characterized by reliable and stable parameters.
TRANS-DATA
antennas significantly improve signal strength and increase the coverage area.