Cables
Coax.- Outdoor
Details
The cable is sold in the quantities:
100m E1231_100,
200m E1231_200.

The structure of the cable
Coaxial cable (RG-6) with copper core, in PE sheath. Additional protection against humidity/water - the space between braided screen and sheath is filled with special gel. The PE (polyethylene) sheath is UV-resistant.
The cable is recommended for outdoor applications in small / medium antenna systems (economical solutions).

For professional applications we recommend TRISET-113PE E1017.
Name

RG-6 Cu PE

gel-filled

Code
E1231
Capacitance [pF/m]
53
Screening efficiency [dB}
>75
Inner conductor resistance [Ω/km]
2.7
Outer conductor resistance [Ω/km]
7.4
Attenuation at: 47MHz [dB/100m]
4.7
- 88MHz [dB/100m]
6.4
- 174MHz [dB/100m]
9.0
- 230MHz [dB/100m]
10.3
- 470MHz [dB/100m]
15.0
- 862MHz [dB/100m]
21.3
- 950MHz [dB/100m]
22.3
- 2150MHz [dB/100m]
35.1
- 2400MHz [dB/100m]
37.2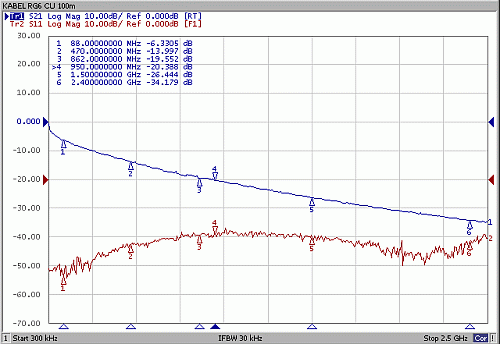 Characteristics of the cable: BLUE - attenuation, RED - return loss.