Details
Views of the DVB-T/T2/C - 2xDVB-T (COFDM) TTX-420C R81613 transmodulator
conversion of DVB-T/T2/C signals to DVB-T COFDM,
conversion of multiple signals from two DVB-T/T2/C multiplexes to 2 neighboring DVB-T multiplexes,
possibility to create one DVB-T multiplex from two different DVB-T/T2/C multiplexes,
transparent regeneration of DVB-T/T2/C stream (without changing the structure or services);
change of the RF channel of DVB-T multiplex,
selectable channels and services in output stream (in multiplexing mode)
easy control via RJ-45 port,
two CI ports (multi-channel descrambling of pay-TV)
management via the Internet,
access to event history (logs),
automatic gain control (AGC).
TERRA TTX420C R81613 transmodulator is used for reception of DVB-T/T2/C signals and for change of their parameters (regeneration, filtering, descrambling, retransmission in different RF channels etc.) according to the needs of the project. The device can receive whole sets of channels
from two DVB-T/T2/C multiplexes, both free-to-air and encrypted
, and convert them into
two neighboring DVB-T multiplexes
with maximum data rate allowed by the DVB-T standard, i.e. 31.68 Mbps. In practice, each multiplex can carry 6 SD channels or 2-3 HD channels. The administrator of the system selects the required channels from the satellite input streams and forms two DVB-T multiplexes. Alternatively,
one DVB-T multiplex can be programmed from channels coming from two different DVB-T/T2/C multiplexes
. In each case, it is neceeesary to remember about 10% safety margin when determining the maximum bit rate for the whole multiplex (typically the ultimate bit rate of a multiplex in multiplexing mode should not exceed 29 Mbps). The output DVB-T COFDM multiplexes are usually distributed to users by a passive network composed of RF
splitters
/
taps
. Such a solution is especially convenient in modern hotel TV systems distributing a variety of satellite channels, including HD broadcasts.
The application of TTX-420C R81613 transmodulator allows for distribution of digital TV channels in situations when the signal received by the antenna cannot be directly amplified or converted to a different frequency due to high BER and low MER levels. It happens in areas with low signal quality.
The regeneration process consists of receiving the DVB-T/T2/C signal, demodulating it to the transport stream, and then re-modulating RF signals as a new COFDM multiplex (frequency converter function). MER (modulation error rate) at the output of the device is not lower than 35 dB, which allows for the distribution of the digital multiplex even in very large MATV systems.
The device can operate in two modes:
transparent mode

- the decoded transport stream is not modified and is directly applied to the COFDM modulator -

without PID filtration

;

multiplexing mode

- the device examines the decoded transport stream (measures the bit rate, updates SI arrays) and optionally filters programs and services.
Thanks to RJ-45 Ethernet port, the programming of the TTX-420C R81613 panel is performed via a web browser.
The TTX-420C R81613 panel has two CI slots that in the case of receiving encrypted channels must be equipped with suitable conditional access modules (CAM) with dedicated smart cards allowing decryption of these channels.
A great advantage of the Terra device is easy integration with other components:
Customers can also order DVB-T/T2/C--> DVB-C (QAM) transmodulators:
DVB-T/T2/C to 2xDVB-C (QAM) Terra TTQ-420C (two CI slots)
DVB-T/T2/C to 2xDVB-C (QAM) Terra TTQ-420
The R81613 units can be mounted on the R82538 or R82539 DIN rail (also in a RACK cabinet) and powered from DR-60-12 R82532 or UP413 R82533 power supply.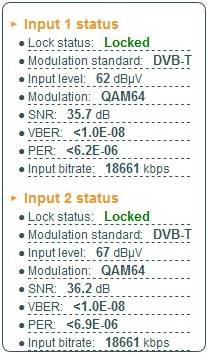 View of the information window of TTX-420C R81613 module
(among others: input level, SNR, VBER parameters)

The percentage of the usage of the available bandwidth in each multiplex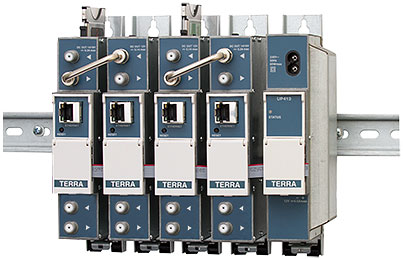 Set of ttx410C R81615 and tdx410C R81617 transmodulators used in an SMATV system. For the reception of pay-TV channels it is necessary to install suitable conditional access module.
Notice: The transmodulator is compatible only with CI CAM modules (no support for CI+).
Name
TTX420C
Code
R81615
RF input

Frequency range [MHz]
47 - 862
Power for a preamp [V/mA]
12 / 100
Level/Impedance [dBμV/Ω]
40 - 80 / 75
Loop through gain [dB]
-1 ±1
Standard
DVB-T
DVB-T2
DVB-C
Modulation
QPSK, QAM16,
QAM64
QPSK, QAM16,
QAM64, QAM256
QAM16, QAM32,
QAM64, QAM128,
QAM256
RF channel width [MHz]
7 or 8
7 or 8
-
Symbol rate [Ms/s]
-
-
1...7.2
FEC
1/2, 2/3, 3/4,
5/6, 7/8
1/2, 3/5, 2/3,
3/4, 4/5, 5/6
-
Roll-off coef. [%]
-
-
15
RF output

Frequency range [MHz]
100... 858, step 0.1
Level/Impedance [dBμV/Ω]
90 ±2 / 75
Spurious level [dB]
< -60
Loop loss [dB]
≤ 2.5 dB
MER
≥ 38 dB (100-780 MHz); ≥ 35 dB (780-860 MHz)
Modulation
QPSK, QAM16, QAM64
Channel width [MHz]
7/8
Guard interval

1/4, 1/8, 1/16, 1/32
FEC
1/2, 2/3, 3/4, 5/6, 7/8
FFT mode

2K / 8K
Output level adj. [dB]
0...-15 (step 1)
Transport stream parameters

Max. bitrate [kb/s]
31680
Max. number of PIDs
no filtering

-
-
Other specs

Ethernet port

IEE802.3 10/100 Base-T (RJ45)

Power [V/A]
12/0.65
Oper. temp. [ºC]
0...50
Dimensions [mm]
48.5x198x112
Weight [kg]
0.9