Details

Sunell SN-NVR10/01E4/004NSEP/WE is a modern IP network video recorder capable of monitoring, recording and playing back images from 4 IP cameras at frame rates up to 25 fps from each camera, with 18 Mbps limit on the total recording bandwidth. This standalone NVR with VGA and HDMI outputs can be directly connected to a monitor, without a need for an additional computer. Thanks to embedded Linux OS, the NVR ensures stable operation and resistance to computer viruses. The NVR is equipped with 4-port switch enabling connection of 4 Sunell cameras which are also powered from it. The cameras are automatically discovered and added to the system. In the case of other cameras, they have to be connected via an additional switch.
The local recording and network transmission uses H.264 compression that provides good image quality with relatively small bandwidth and disk space consumption. There is place for one SATA HDD with total capacity up to 4 TB. In addition, the NVR supports NAS. Built-in USB ports can be used for control of the NVR via external devices and for connecting a USB storage device.
The remote access to the NVR is possible via a web browser or dedicated InView (IMS) software for Windows OS. Free NVR InView app available in Google Play enables users of Android devices to monitor the NVR on the go.
A clear and intuitive menu of the NVR allows even novice users to configure and operate the system in an easy and effective way. The configuration options include network settings, searching for cameras and the setup of their parameters, configuring data streams, configuring motion detection and recording schedule etc.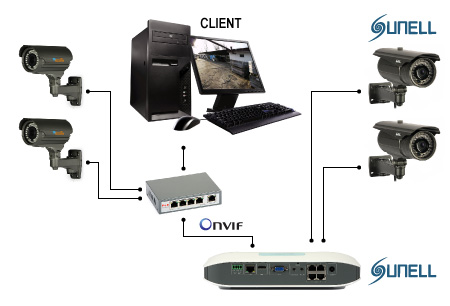 The maximum number of simultaneous connections to the NVR is 4. Two users can monitor up to four cameras and play back recorded video from one channel. The total number of all open windows (for all remote users) cannot exceed 8.
Distinguishing features
total recording bandwidth: 18 Mbps (4.5 Mbps per channel)
flash technology - remote operation via IE, Google Chrome, Opera, Safari
HDMI, VGA outputs ( VGA: 1600 x 1200, 1280 x 1024, 1024 x 768, HDMI: 1920 x 1080, 1280x720)
supported recording resolutions: 1080P, 720P, D1
Recording and playback
recording according to a schedule or triggered by motion detection
independent recording parameters for each channel
pre- and post-alarm recording option
individual image settings for each channel
option of overwriting existing data (full disk)
local synchronous playback from four 1080p channels
digital zoom
Networking
10/100 Mbps LAN adapter
4 x PoE 10/100Mbps (Sunell cameras only)
support for TCP/UDP, ONVIF, HTTP, DHCP, DNS protocols
remote configuration and operation; browsing, downloading and archiving recordings
control of PTZ Sunell cameras in LAN
remote monitoring of NVR status, alarm events, system log.
Name/model
SN-NVR10/01E4/004NSEP/WE
Code
K2505
Manufacturer
Sunell
NVR OS

Embedded Linux
Number of channels
4
Support for megapixel cameras

Yes
Total recording bandwidth

18 Mbps (4.5 Mbps per channel)
HDD interface

1xSATA II (max 4 TB)
Pentaplex
Live monitoring, recording, playback, archiving and remote access at the same time
Live monitoring
1x 1080P/720P/D1
4x 1080P/720P/D1

Max number of simultaneous connections

4
Remote monitoring and playback

Monitoring: max 8 channels (shared among all users; one user: max 4 channels)
Playback: 1 channel
Local synchronous playback

4 channels

Video compression

H.264
Ethernet port

RJ45 10M/100 Mbps
PoE ports

4 (RJ45 -10/100 Mbps, power for Sunell cameras)
Audio compression

G711_A, G711_U
Audio IN/OUT
Yes, 3.5 mm jacks

Recording modes

Continuous, schedule, manual, alarm-triggered
Digital zoom
Yes

Protocols

TCP/UDP, ONVIF,HTTP, DHCP, DNS
Backup
NAS, USB,LAN
Remote access

Internet browser, IMS (app for Windows PCs), NVR InView (Android)
Video outputs

HDMI, VGA
Other connectors

2 x USB 2.0
Alarm input/output

1/1
AC/DC adapter (output)

48 VDC / 1.35 A
Compatible browsers

IE, Google Chrome, Opera, Safari, itp.
Dimensions
216 x 175 x 50 mm (W x D x H)
Power consumption

6 W
Operating temperature range

0°C...45°C
Weight
7 kg