Modulators
DVB-T
Details
SIGNAL-400 R86700 is a multipurpose digital modulator (DVB-T - COFDM) with HDMI input and USB interface, capable of processing SD, HD and Full HD signals. The output RF signal can be combined with any other TV signals.
The device is a single-channel modulator, which means that the output DVB-T multiplex contains one channel modulated by the source signal. Wide configuration options allow for combining the output DVB-T multiplex with existing DVB-T broadcasts distributed in the system, in a manner chosen by the administrator or investor (adjustable parameters include LCN, SID, PID, NIT).
The source signal may come from a multimedia player, DVR, Blu-ray player, PC, STB etc. The modulator can distribute high quality content in the form of DVB-T multiplex via typical RF coaxial cables used in antenna systems. The maximum bit rate is limited by the DVB-T standard (31.68 Mbps), whereas the maximum bit rate of the video stream cannot exceed 18.0 Mbps.
The device offers an attractive alternative to installations based on HDMI splitters and cables.
All parameters are set with buttons and shown by the display located on the front panel of the modulator.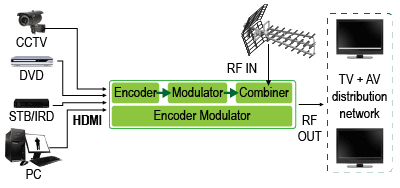 Schemat funkcjonalny urządzenia.
Distribution of HD signals from a Blu-ray player and PC computer converted into DVB-T multiplexes by Signal-400 R86700 modulators, along with DVB-T broadcasts received by the A2670 antenna
Applications
Hospitals

TV for patients
transmission from the operating rooms (for documentary/professional/scientific/educational purposes)
education of students
video monitoring
advertising

Stores and shopping malls

promotional channels
distribution of content from DVD/Blu-ray players
distribution of HD/SD TV channels
commercials

Ships, large yachts, ferries

on-board TV from media players
news channels
GPS/navigation information
video monitoring

Corporate TV solutions

corporate TV channels
training channels
video conferences
educational channels
video monitoring

Schools, colleges, universities

transmission of lessons/lectures
school/college/university TV
news/educational channels
broadcasts to laptops, iPads, etc.

Sports facilities

TV on stadiums, in halls and supporting facilities,
HD video monitoring
transmission of sports events in high definition
Name
Signal-400
Code
R86700
Video
Encoding
H.264 MP@L 3.0/3.1/4.0
Bit rate range

1~18 Mbps
Input
HDMI x1
Resolution options

Input
Output
480i@59.94/60FPS
480p@30FPS
576i@50FPS
576p@25FPS
720p@50/59.94/60FPS
720p@50/59.94/60FPS
1080i@50FPS
1080p@25FPS
1080i@59.94/60FPS
1080p@30FPS
1080p@59.94/60FPS
1080p@30FPS
Aspect ratio options

16:9, 5:4
Audio
Encoding
MPEGI layer 2, MPEG-2 AAC
Sampling rate
48 kHz
Bit rate options

64kbps, 96kbps, 128kbps,
192kbps, 256kbps, 320kbps
DVB-T modulator

Standard
DVB-T COFDM
FFT mode
2K
Bandwidth options
6 MHz, 7 MHz, 8 MHz
Modulation options
QPSK, 16QAM, 64QAM
Guard intervals
1/4, 1/8, 1/16, 1/32
FEC
1/2, 2/3, 3/4, 5/6, 7/8
MER
≥ 31 dB
RF range

142.5-858 MHz, step 1kHz
RF output level

-14...+6 dBm, step 0.1 dB
Management & Configuration
Local interface
LCD + buttons
Firmware update

via USB
Physical specs
Power
12 VDC (AC/DC adapter incl.)
Dimensions
183x110x50mm
Weight
< 1kg
Overview of DVB-T modulators:
Name
Signal-350
Signal-352
Signal-400
Code
R86350
R86352
R86700
Standard
DVB-T COFDM
DVB-T COFDM
DVB-T COFDM
Inputs
RF, 1xA/V (RCA)
RF, 2xA/V (RCA),
2xS-Video
RF, 1xHDMI,
Resolution
720x576_50i (PAL), 720x480_60i (NTSC)
720x576_50i (PAL), 720x480_60i (NTSC)
480i@59.94/60FPS,
576i@50FPS,
720p@50/59.94/60FPS,
1080i@50FPS,
1080i@59.94/60FPS,
1080p@59.94/60FPS
SD/HD
SD
SD
HD
Housing type

standalone
standalone
standalone
RF range

30-999 MHz
30-960 MHz
142.5-858 MHz
Max output level [dBμV]
97
91
101
| | | | | |
| --- | --- | --- | --- | --- |
| Name | Language | File type | File size | Date |
| Instrukcja obsługi | PL | | 1.6 MB | 2012.12.19 |
| User manual | EN | | 2.3 MB | 2012.12.19 |